Cycling World Championships
Monday, October 17, 2022
What's it like to compete at a Cycling Masters World Championships?
Before going to the Masters World Championships I had a lot of questions that I could not find answers to. Luckily I have a very close knit cycling community in my local area which I'm a part of and amongst them a few who have gone to previous Masters World Championships, so I was able to fill in a lot of the gaps by talking to them. I thought that I would share my experience so that other people that I don't ride with regularly can find out what it's like too.
I kept diary notes and made posts on my @the.cycling.physio insta page, which I've reproduced here, and I have also reflected in retrospect and added some extra information that might be helpful.
Background
I got my first road bike when I was 12 thanks to my father being an avid Dutch road cyclist. I got into triathlon because I was also good at swimming and running. Competed at the national level until my late teens. Then like a lot of elite teenage athletes, I did not do sport for a few years. The first thing I picked up again in my early 20s was the bike after being convinced by some work colleagues to join in fundraising for the Sydney to Wollongong ride. I've been riding consistently ever since.
Eventually I joined a local cycling club and competed at local club crit races. Enjoyed dabbling in the odd road race or gravel event. And then I qualified for the Masters Cycling UCI Gran Fondo World Championships in 2020, and booked a family holiday around the event in Canada that year. Unfortunately COVID shutdowns got in the way. Over the next 2 years I set myself more local cycling goals, including Everesting; riding 273km within my LGA; and getting a cycling coach to make a training program for me and experience what it's like to have a coach in this century. I found out pretty quickly that having a coach, even with training the same hours, meant I improved significantly.
There are only 2 UCI Masters qualifying races that you can enter in Australia. The Amy's Gran Fondo typically held in November in Lorne, Victoria, and the Tour de Brisbane.
April 11th 2022
All smiles at @tourdebrisbane start line yesterday.
The actual course itself was so bloody good! Going through huge pieces of cross city tunnels, over bridges, through the CBD, then up a decent climb near the end all on fully closed roads. It was epic!
I was happy with my racing too. Me and few others tried a number of times in the first 50km to try get a breakaway bunch going, which didn't quite work out despite many attempts. So I burnt a few matches there. But super happy to thread my way through a decent crash in the bunch, and avoid any other crashes or mechanicals.
I lost contact with the strong guys up the final climb, caught a few on the decent, and sprinted for 18th in my category at just over a minute behind the leaders.
All in all, a good day out!
[Narrator: Live results showed placings and also had an icon next to them with who qualified for the World Championships. I went into the race with a goal of getting a qualifying time despite not planning to go to Worlds because it clashed with Australian National Championships, and my business and volunteering commitments.]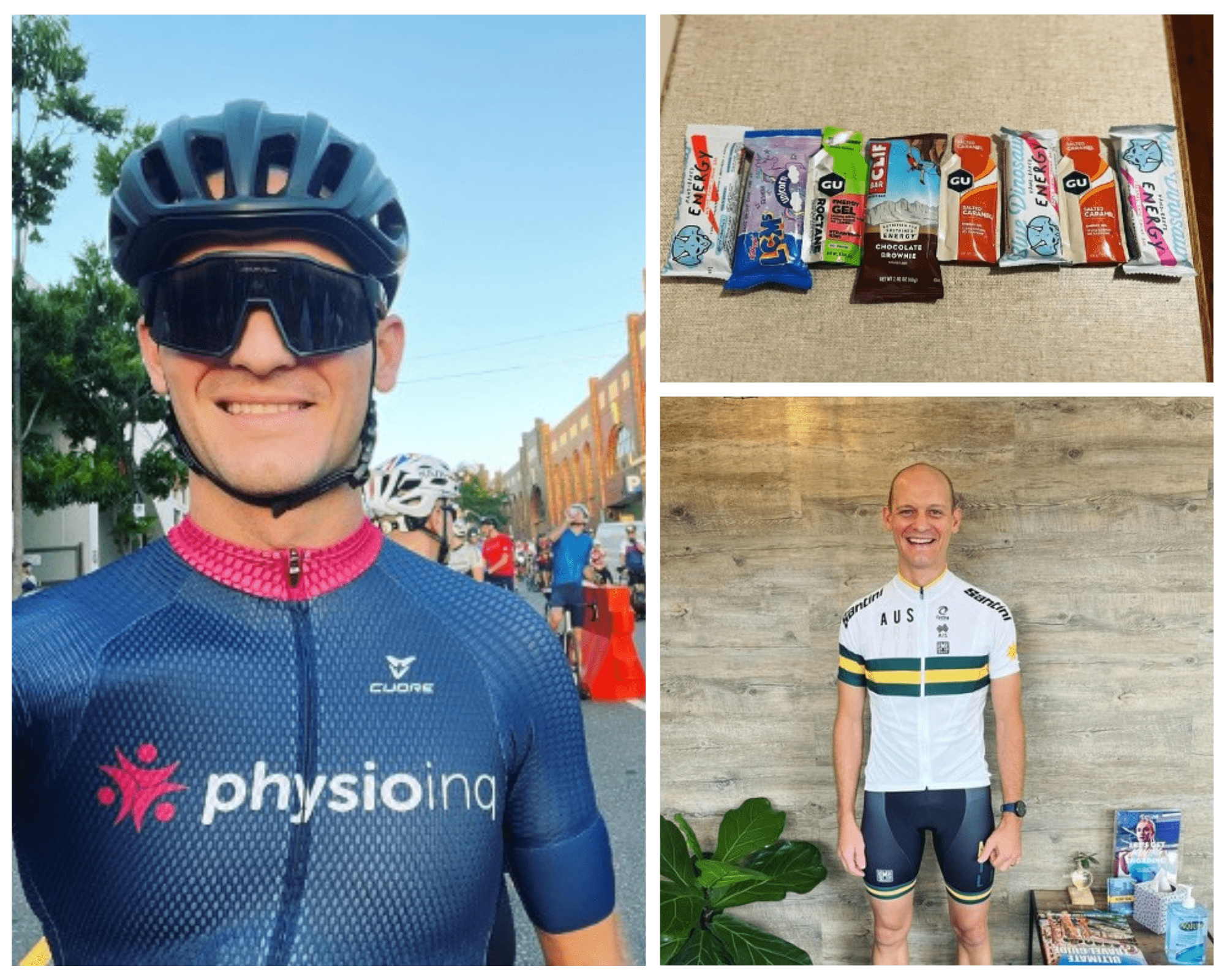 June 24th 2022
[Narrator: Business and volunteering commitments fell through unexpectedly at the last minute. And then I saw the release of the course for the Masters World Champs, and also in the process researched where Trento was, realizing that it was in the famous Dolomites in the North of Italy. The course was nothing like I have ever ridden before, including 35 switchbacks on one of the climbs and a higher mountain than I've ever done before. That sounded like fun! And a worthwhile experience. Wifey also figured out where Trento was! And we were lucky to be able to leave the kids with our parents. Tickets were booked. Registration for the event was pretty straight forward. I was required to provide a letter from my Doctor that I didn't have any cardiac conditions and it was safe for me to race. I also had to apply for a UCI ID, which was separate to my Aus Cycling racing license. And then provide details of myself and any support crew that I would have there. They also told me it was a requirement to wear national colours.]
August 20th 2022
Eating all the carbs as I start to trial my race day eating plan for Masters Road World Champs next month (in Italy). There's nothing worse than getting unstuck on the day due to not testing out your plan!
I'm eating everything in this photo, plus two bottles of power aid during my 3.5 hour ride tomorrow. Aiming for about 70g of carbs per hour.
[Narrator: In the race I ended up eating 12 gels, 3 of which had added caffeine, and drank a total of 6 bottles of water, 4 of which had electrolytes and carbohydrate. There were volunteers holding out bottle on the climbs for us to grab and refill. I did bring 2 bars, but in the end I didn't eat any solid food because during my training I found that I could only stomach solid food during lower intensity, and not even the decent on the hills was low intensity; full gas all day!]
September 6th 2022
National jersey has arrived!
Somehow, after a bunch of issues and mistakes (by me and suppliers) getting this kit in time for Worlds in Trento was one of the most stressful parts so far!
The jersey might be a bit loose around the stomach, and sort in the sleeves, but at least I can line up on the start line now!
[Narrator: My recommendation would be to order your national kit through the portal as soon as Aus Cycling sends you a link. It's not open for as long as you might think.]
September 14th 2022
Yoga in the transit lounge in Perth, getting ready for the 16.5 hrs direct flight to Rome.
[Narrator: I packed my bike in a scicon aerocomfort 3.0 bike bag, and booked a direct flight to reduce handling.]
September 15th 2022
We made it! Yesterday we picked up the car, had breakfast in Rome, lunch in Florence, then headed to Trento.
September 16th 2022
Making pyramids and squiggly line on Strava during my ride today.
Check out the video on my instagram page here.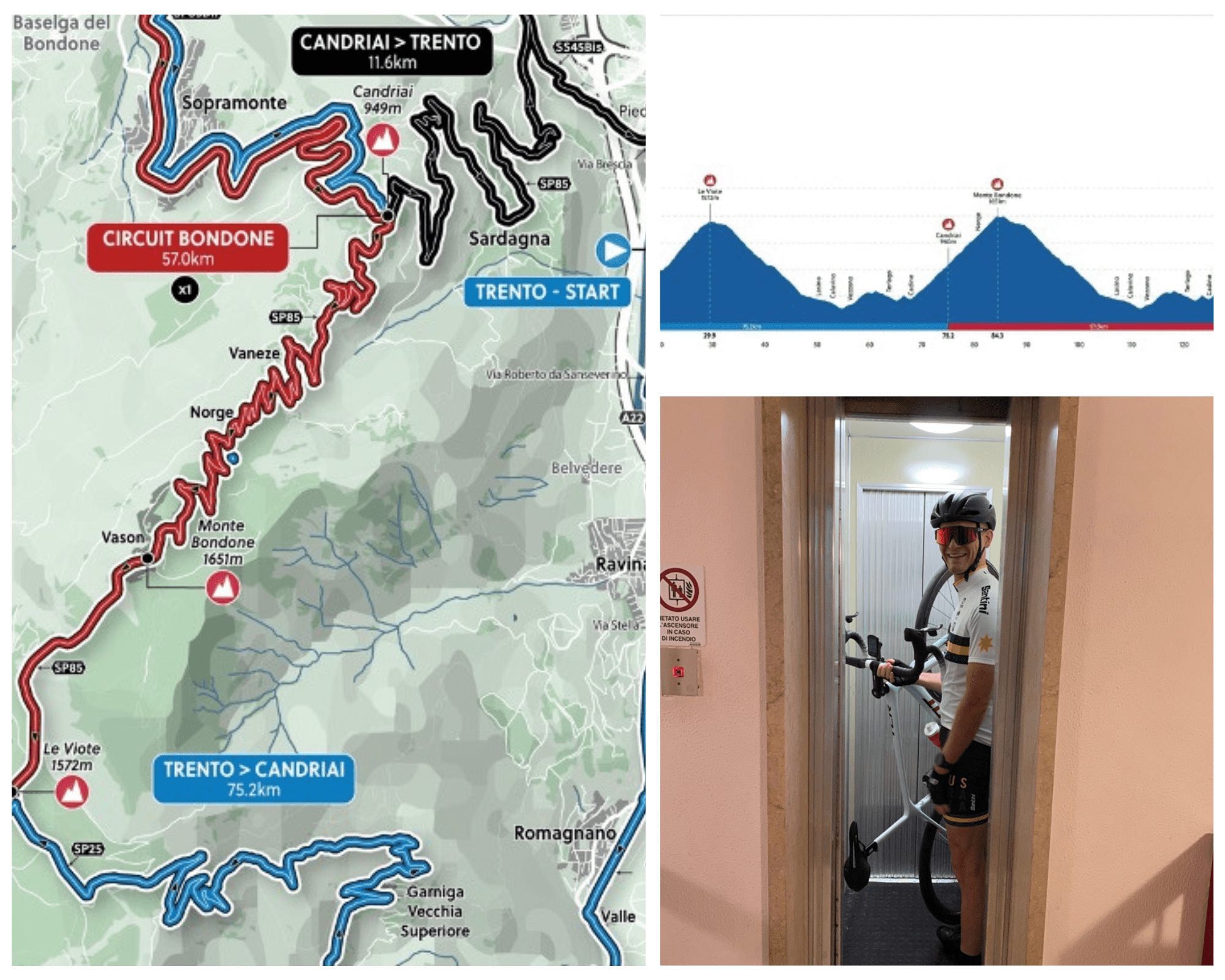 September 17th 2022
Doing a recon drive of the course gave me a lot of insight into the course. Not just how bloody long the climbs are! Also checking road quality, if the sharp corners on descents are well sign posted, and of course an opportunity to take in the beautiful scenery along the way.
Very much looking forward to race day TOMORROW.
[Narrator: I always want to be able to see and explore a new city that I'm in and not miss out on anything because I'm preparing for a race. Usually I like to explore by walking, but doing 25,000 steps a day before competing in a World Champs just isn't a good idea. So I hired an e-scooter instead!]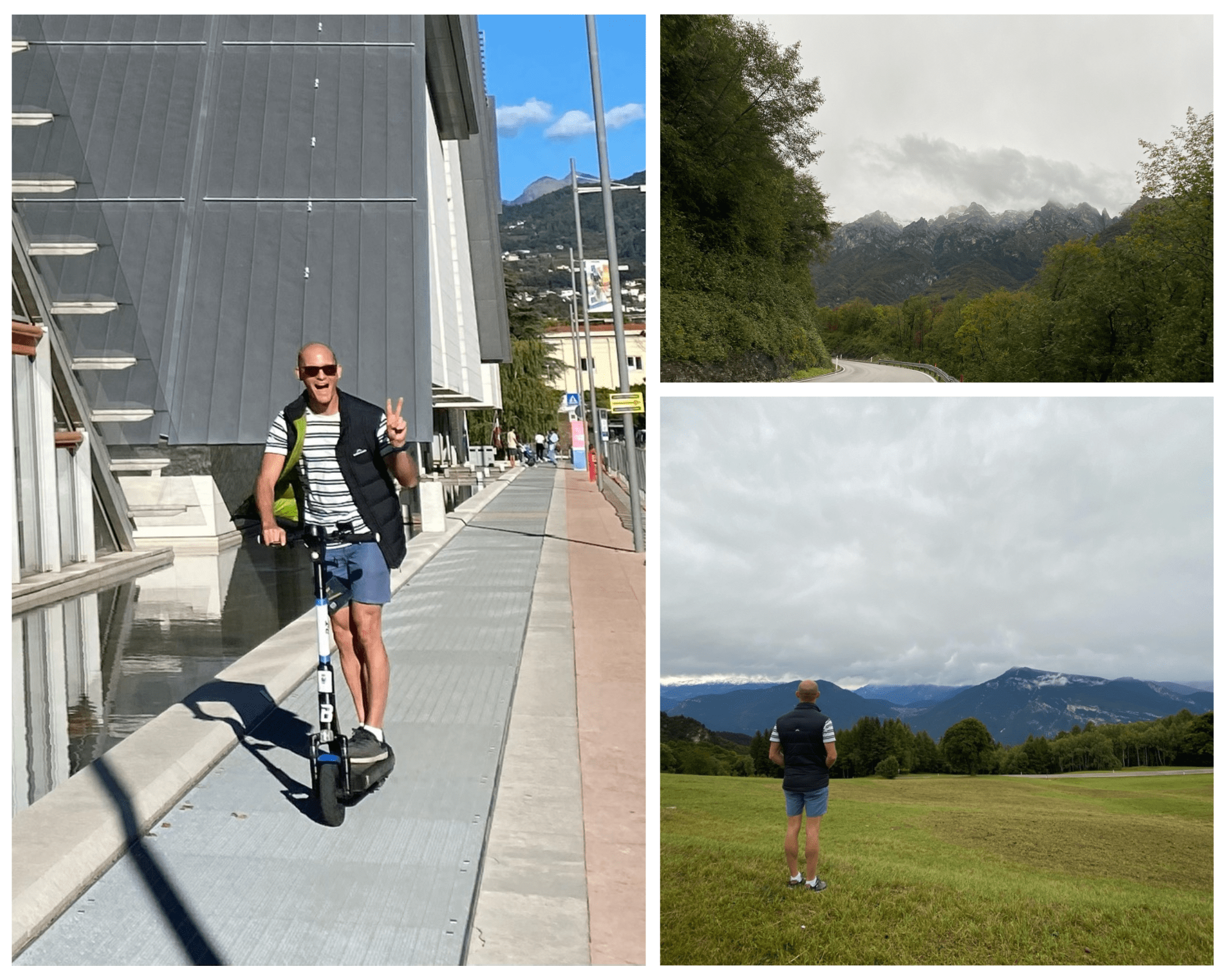 September 18th 2022
2022 Trento Masters Road World Championships summary. An experience. That's for sure!

Flat start to the climb was full gas. Glad I did a good warm up. We did 46km/hr average. Sprints out of every corner. I knew it was just going to continue to be crazy up the climb, so set myself 7min limit of being over FTP, then settled into a rhythm. I managed to stick to my planned power output up the first climb of 21km - Le Viote - topping out at 1572m in 1hr, 15min.
Got a group together for the transition to the next climb - Monte Bondone - a 23ish Km climb topping out at 1651m. The last 2km of this climb was the most physically and mentally tough. Steep pinches, a little dehydrated, and generally struggling with life and to keep my power up. To avoid fully hitting the wall, I pulled back the watts by 30 for the remaining climb. Drank heaps of water at the top, ate 3 gells over 30min on the decent and felt good (ish) again for the final climb.
Cadriai is 960m tall, and it's the second time up, as it makes up the first half of Mt Bondone. So I knew what I was in for! Felt like the power was back in my legs after the last decent, so I just committed to my original power numbers. I passed a heap of riders from my age category who had totally blown up, crawling up the mountain. Which gave me motivation to keep pushing. In the end I completed the climb just 50sec slower than the first time, which I'm really happy with!
Lastly, a fun and technical decent into the finish. Finished 83rd, in 5 hours, 18 minutes. 143km, with 3900m elevation, ave speed of 27.5km/hr. Very happy this that outcome! After all. 83rd in the world for my age isn't bad at all!
The winners are on another level though. They came in 54min before me! Amazing!
Big thanks to:
My great and loving support person - Laura.
My coach - Rusty @peakveloperformance
Those holding down the fort at home, and at our clinics.
And everyone who sent me encouragement over the past week.
[Narrator: Some of the most interesting parts of the ride were being recognized as The Cycling Physio by a random Belgium rider while struggling up the final climb! I wasn't even in my Physio Inq kit.
Another one just getting blown away at how fast the leaders were in each category. The leaders in each category, men, women, from 30-60 y.o., coming past like I was standing still. Leaders in all categories finished approx. 40 mins faster than me.
I burned 19,795 kilojoules. A normalized power of 262 watts.]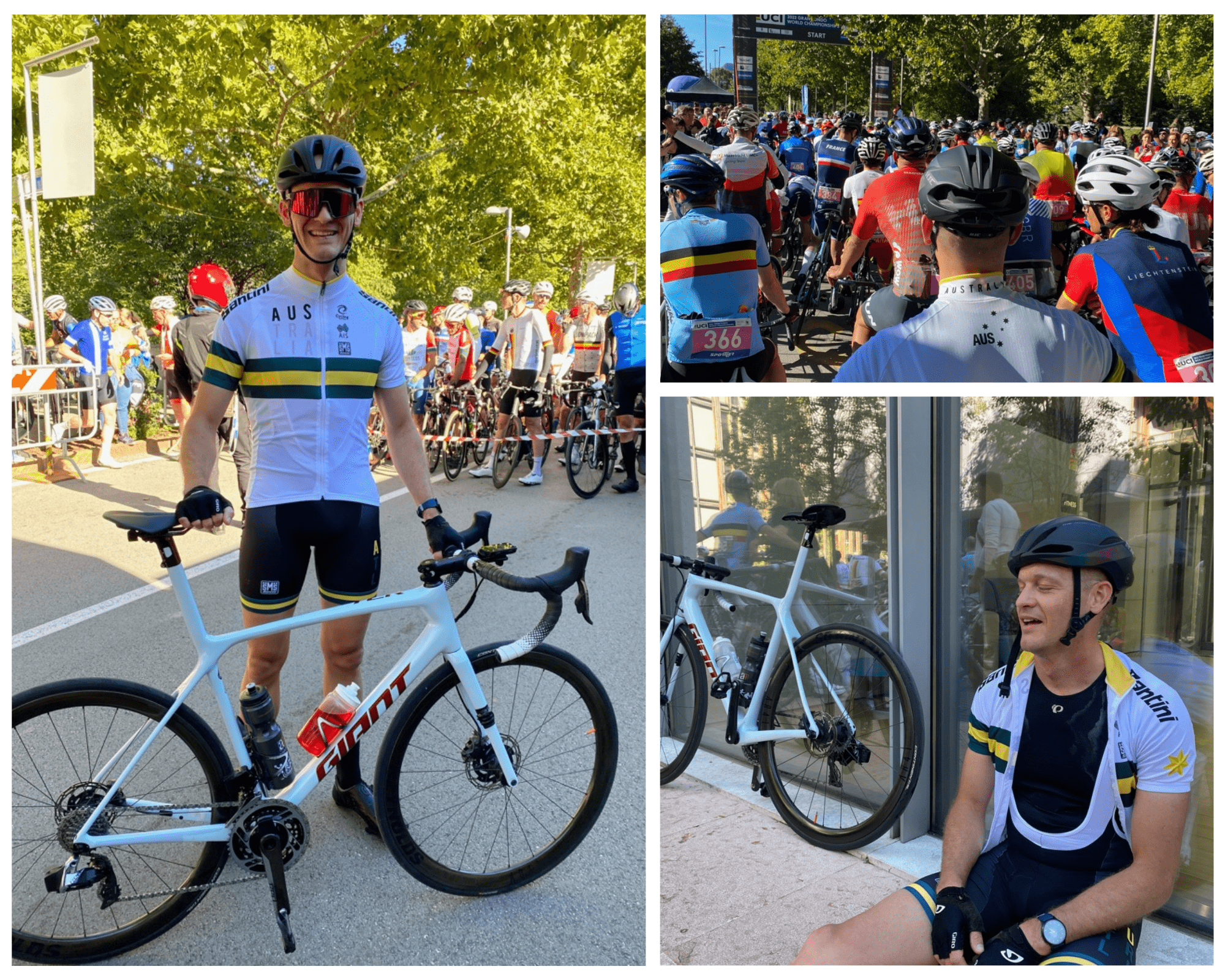 September 19th – 21st
Ready to go explore Lago Di Garda.

[Narrator: Recovery day at a thermal spa. It was awesome just having my bike in Europe. Exploring. Just enjoying riding. Drinking espressos! Wrong side of the road! Cobblestones!]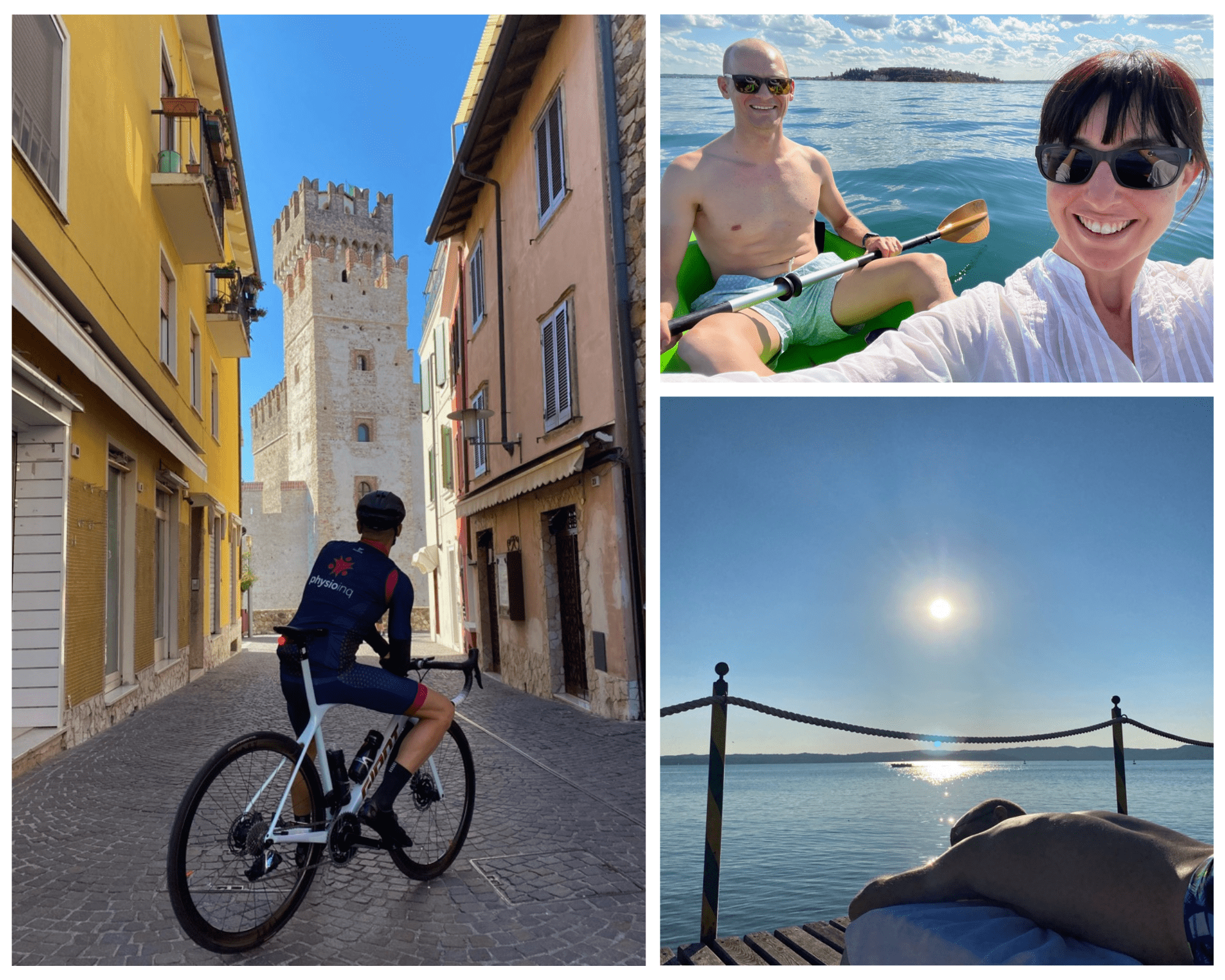 Share the article