Reduce Your Environmental Impact At Work
Friday, June 17, 2022
How can we reduce environmental impact in the office?
If you're asking this question, you already know the benefits of environmentally sustainable practices or "green workplaces" are enormous. In the context of an allied health practice, here are some ideas that we have implemented:
Idea 1: Choose Quality Products Over Cheap Products
Choose quality so it lasts, and preferably made from recycled or sustainable or local materials. In our clinics this includes our reception lounge, client chairs, and treatment tables.
Consider if can you buy it on the second-hand market or repurpose something you already have. In our clinics this includes artworks, uniforms, quality wooden toys and books, staff room desk.
Idea 2:

Choose energy-efficient appliances




Opt for energy-efficient applicants (fridge, washing machine) and lights. Turn them off when not in use. In our clinics, we have swapped all our lights for LED. Air conditioning is essential in our clinics, but we monitor the appropriate temperature and keep it clean and regularly serviced for optimal efficiency.



Idea 3: BYO Coffee Machine and Mugs
Buy a coffee machine and coffee mugs for the office and subscribe to a local bean roaster. In our clinics we have home espresso machines and Black Market Roasters.This avoids takeaway coffee cups finding their way into the clinics. You could also make friends with your local cafes and get your lunch served on crockery to avoid more waste.
Idea 4:

Add real plants into your clinics!




It's great for the air, the vibe and avoids buying plastic trinkets that don't last long.



Idea 4:

Swap out single use disposable items for reusable items.




In our clinic this includes:



Soft and vinyl table covers rather than single use bed sheets.

Digital business cards from v1ce

rather than disposable business cards.

Frames rather than laminated signs.

Glasses and jug for client beverages rather than water bottles.
Idea 5: Place orders weekly to minimise packaging and delivery impact.
Idea 6:
Choose refillable cleaning products
In our clinic this includes trusty vinegar and water, medical grade disinfectant in large tubs and Zero Co bathroom and kitchen cleaning supplies.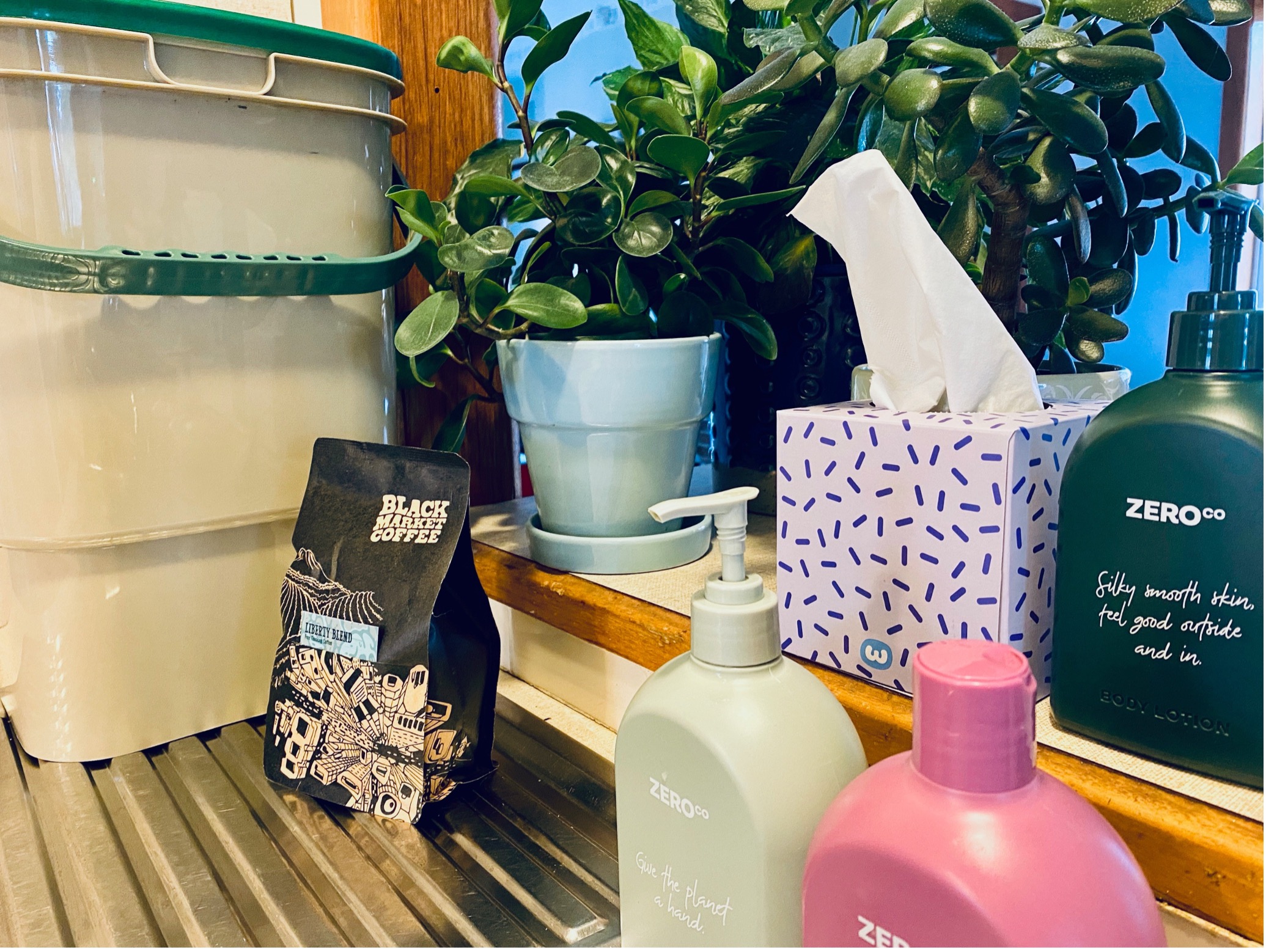 Idea 7: Choose recycled toilet paper and tissues
In our clinic, this is from
Who Gives A Crap.
Idea 8: Choose not to press print!
If soft copy will work, preference that. Most clients nowadays prefer an emailed invoice or gift voucher rather than a handout too. We also use GoFax in our clinics, to send and receive faxes securely via email.
Idea 9: Compost
.
Yes, even in the office. Consider a small bin that is emptied regularly into a compost bag and taken home into a backyard composter, or a Bokashi style. Food scraps, coffee grinds, shredded paper, tissues, can go in there. Flora and Fauna or Bunnings have some good options.
This type of thing works best when everyone in the office buys-in. Talk to your team about what types of waste go in what bin as well as cleaning & laundry protocols and buying choices. Lead by example and find like-minded team members to help champion the cause. You could also get the office to participate in Plastic Free July.
Remember, every little bit counts. We don't need a handful of people doing it perfectly. We need millions of people doing it imperfectly – Anne Marie Bonneau. Reach out and chat to us about it anytime.
Share the article